Wimbledon 2017 Day 1: Daniil Medvedev stuns Stan Wawrinka, other top names advance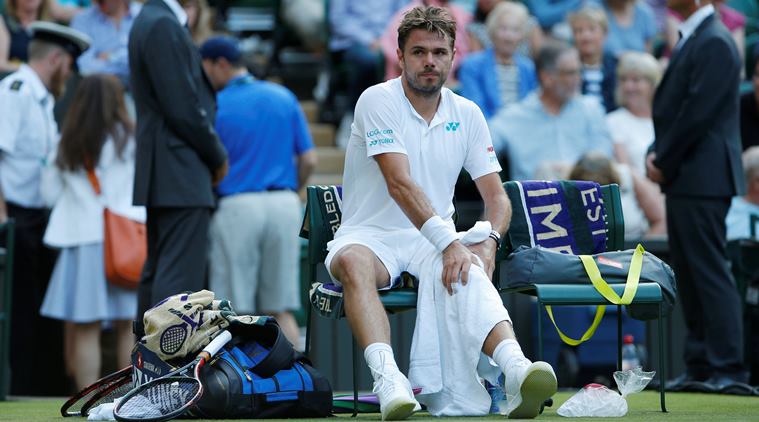 Stan Wawrinka lost in the first round.
Wimbledon 2017 first day was turning out to be perfect for the top seeds and players before Daniil Medvedev caused the first upset of the Championships late on Day 1. Three-time grand slam champion Stan Wawrinka suffered a shock defeat to Medvedev, who won 6-4 3-6 6-4 6-1. Earlier, Rafael Nadal, Andy Murray and Marin Cilic advanced to the next round. In the women's singles category, there were no upsets and Venus Williams, Petra Kvitova and Simona Halep made it to the next round.
0015 hrs IST: He has done it! Daniil Medvedev, who has never advanced to the second round of a Grand Slam before today, beats world number three and fifth seed Stan Wawrinka 6-4, 3-6, 6-4, 6-1 
2315 hrs IST: Not as easy as Medvedev would have liked! Wawrinka roars back to take the second set 6-3 and tie the match at one-set-all
2240 hrs IST: Medvedev takes the first set! Not the way Wawrinka would have liked to start this first round match but Medvedev too strong!
2209 hrs IST:Up next on Centre Court is Stan Wawrinka against Next Gen player Daniil Medvedev
2208 hrs IST: Nadal registers his 850th tour level win. Only the seventh man to reach this figure! Beats Millman in straight sets. Hasn't been any trouble for the Spaniard or his knees
2042 hrs IST:A lovely forehand winner cross court and Nadal takes the opening set 6-1.
Advertisement
2003 hrs IST:Andy Murray begins his title defence with an impressive and convincing 6-1, 6-4, 6-2 win over Bublik. As one contender gets done, another takes court: Nadal is now warming up on Court 1 where he's facing Australia's Millman
1949 hrs IST:Play underway on other courts too. Venus Williams gets the job done against Mertens. Wins 7-6, 6-4.
1940 hrs IST:Players are warming up under the Wimbledon roof. First show for the famed roof this year. Hasn't taken long, has it?
Advertisement
1927 hrs IST: The rain is expected to last 15-20 minutes, informs Wimbledon, before subsiding.
1907 hrs IST:Simona Halep is through to the second round with a 6-4, 6-1 win over Erakovic. Venus Williams on the verge of joining her there. But Mertens not going away easily. She saves one match point but the contest is back to deuce at 3-5 in the second. Venus comes back to hit a sublime winner down the line – takes the outside edge. Another match point and a desperate lunge later, Mertens draws it back to deuce. And at deuce, play has been stopped. Covers come on.
1905 hrs IST: First five-setter at Wimbledon: Khachanov def. Kuznetsov 7-6 2-6 6-3 1-6 6-2
1858 hrs IST:Rain falling over Wimbledon or in the horizon at least. Covers are on at Center Court. Players are off. Not sure if it is heavy rain – didn't look that way. No hint of roof coming on either. Meanwhile, Kei Nishikori took just 78 minutes to move into the second round. Play going on on other courts
1847 hrs IST:Andy Murray brings up set point with a marvellous running forehand winner past Bublik at the net. Stand up and applaud! Second serve is on the mark and Bublik nets the return. Murray punches the air in sheer joy!
Advertisement
1842 hrs IST: Bublik holds serve and forces Murray into serving for the second set at 5-4. Halep is up a set and a break 6-4, 2-0 vs Erakovic and fourth seed Elina Svitolina has taken the first set 7-5 vs Ashleigh Barty
1814 hrs IST:On Court 2 is Simona Halep against Erakovic. The Romanian is up a break at 3-2 in the first set
Advertisement
1805 hrs IST:Comfortable first set for Andy Murray on Center Court – in much contrast to how he played at Queen's. No trouble with the hip either. Meanwhile, Mertens has come fighting back to make it 4-4 in the opening set vs Venus
1748 hrs IST:Andy Murray and Bublik stay on serve for three games. But the Kazak now has two break points to defend. Saves one and then two with two big serves. Deuce. Has a game point but serves a double fault. And then another double. Break point once again. Tries to approach the net but Murray goes behind with a forehand pass.BREAK! Murray leads 3-1. Over on Court 1, Venus is off to a flying start. She leads 3-0
Advertisement
1738 hrs IST: The Duchess of Cambridge has offered praise to Wimbledon's ball boys and ball girls, saying their professionalism makes a huge difference to the players. The Duchess of Cambridge has offered praise to Wimbledon's ball boys and ball girls, saying their professionalism makes a huge difference to the players. The former Kate Middleton made her first visit to the tournament in her capacity as patron of the All England Club. The duchess told two ball girls and a boy that their work "makes the game happen." After praising their dedication, she also added, "you look so smart." She will take her place in the royal box to watch Andy Murray on Centre Court. That match is underway with Murray serving first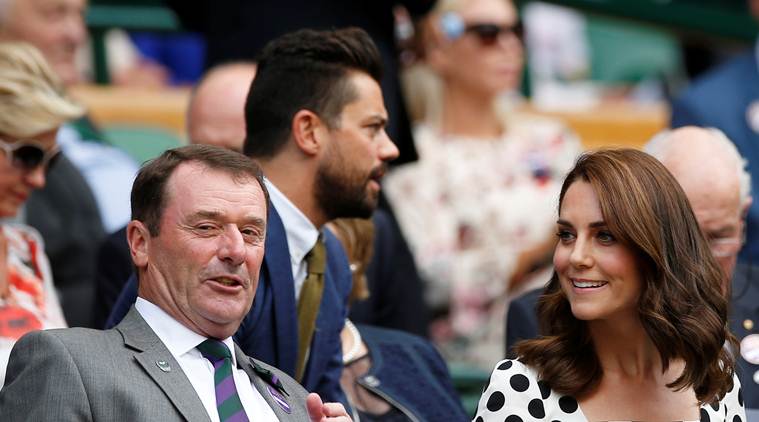 Catherine, the Duchess of Cambridge before Andy Murray's first round match against Alexander Bublik. (Source: Reuters)
1730 hrs IST:Now warming up are Andy Murray vs Alexander Bublik, Venus Williams vs Elise Mertens, Donald Young vs Denis Istomin and Fernando Verdasco vs Kevin Anderson
1714 hrs IST:British hope Laura Robson is also out of the Championships. Brazil's Haddad wins 6-4, 6-2. No trouble for USA's Madison Keys who wins 6-4, 6-2 vs Hibino
1712 hrs IST:Nick Kyrgios gets treatment from the trainer for a brief period before calling it quits. He retires hurt. Did so in Queen's too. The injury clearly not healed. Herbert is through to the second round
1711 hrs IST: Meanwhile no trouble for Jo Wilfried Tsonga who is now two sets up 6-3, 6-2 vs Norrie. Madison Keys is close to the second round progress.
1704 hrs IST:TWO SETS! Herbert with three aces and then a forehand winner into the open court to take a two sets to love lead over Kyrgios. The Aussie, normally a fantastic athlete, not even making a run for it
1702 hrs IST:Trouble once again for Kyrgios. He drops serve once again in the seventh game and Herbert will now serve for the second set at 5-4. The Aussie is walking around very gingerly – almost as if he's carrying an injury
1654 hrs IST:It is 3-3 in the second set between Kyrgios and Herbert now. Key scores elsewhere: Tsonga 6-3, 2-2 vs Norrie, Paire 6-4, 1-4 vs Dutra Silva, Khachanov 7-6 vs Kuznetsov, Janowicz 6-4, 2-2 vs Shapovalov, Sousa 6-3, 5-5 vs Dustin Brown, Maia 6-4, 2-1 vs Robson
1636 hrs IST:Early trouble for Kyrgios wearing white tights underneath his shorts despite the warm temperatures at Wimbledon. Herbert wins the opening set 6-3.
Also Read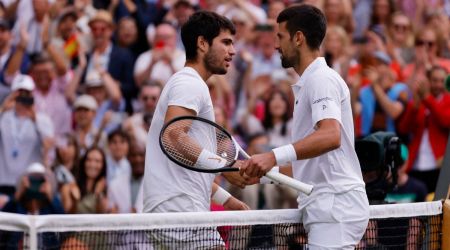 Novak Djokovic and Carlos Alcaraz set to meet again in group stage of Dav...
Watch: Jannik Sinner wins a 46-shot rally against Tommy Paul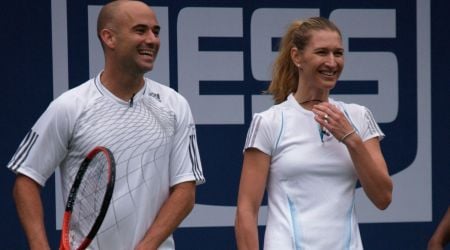 Does Steffi Graf ever age? Husband Andre Agassi has the perfect reply
'Never been friends, never been close to Roger Federer': Novak Djokovic s...
1605 hrs IST: READY, SET, PLAY! Nick Kyrgios gets play underway against Herbert on Court 3. The Frenchman is serving first. Some key matches around the grounds see Tsonga vs Norrie (Court 2), Dutra Silva vs Benoit Paire (Court 4), Khachanov vs Kuznetsov (Court 5), Sam Querrey (from his upset of Djokovic last year) vs Fabbiano (Court 11), Madison Keys vs Hibino (Court 12)
© IE Online Media Services Pvt Ltd
Copyright Notice
This article only represents the author's viewpoint and does not represent the position of our website< Br> This article is authorized for publication by the author and cannot be reproduced without permission.