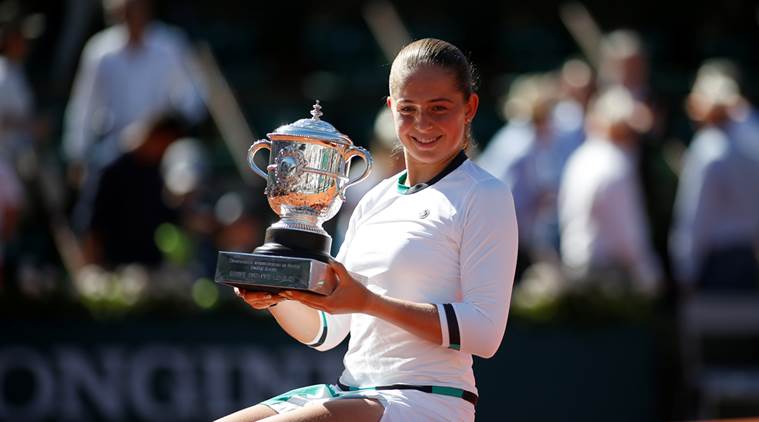 There is one burning ambition she has yet to fulfil, though — facing the most successful professional-era tennis champion across the net. (Source: AP)
Some might see Serena Williams's absence from Wimbledon as a boost to their own chances of success, but Jelena Ostapenko cannot wait for her "all-time idol" to come back to the circuit following her maternity break.
Over the past three years, the 20-year-old has achieved many life-time goals, such as winning the junior title at Wimbledon in 2014 and catching the sporting world by surprise when she hoisted the French Open trophy earlier this month while ranked 47th in the world.
There is one burning ambition she has yet to fulfil, though — facing the most successful professional-era tennis champion across the net.
Williams, the holder of 23 grand slam singles titles, will be unable to defend her All England Club title over the next fortnight as she awaits the birth of her first baby.
While other rivals might be looking to capitalise on the 35-year-old champion's absence, Ostapenko thinks otherwise.
"It's also nice when she was playing as she's a great champion and she is always inspiring a lot of players," the fast-talking Latvian told Reuters in an interview in the run-up to the grasscourt major.
"She was always my idol when I was growing up as I would always watch her matches and really love the way she plays. She's the greatest player and maybe our styles of play is quite similar. I hope I can still play her one day."
Advertisement
Ostapenko was just two when Williams began her grand slam winning spree at the 1999 U.S. Open, and over the last two decades the American is the only woman to have achieved a feat the Latvian is now targeting – the French Open-Wimbledon double in the same year.
To do that, she has been fine-tuning her game that usually relies on three things – power, speed and even more speed.
"On grass you have to serve a little bit better than on clay, that's more important. And the return. So I have worked on my serve and return these past two weeks," said the Riga-born player who is determined to improve on her 2016 first round exit at Wimbledon.
Advertisement
Much was made of her tactics at the French Open, where she belted the yellow ball out of shape – each and every time she made contact.
That ploy not only left a string of opponents gasping, it also earned her almost as many unforced errors (271) as cleanly hit winners (299) over the course of seven matches in Paris.
With most of the damage done by her firecracker forehand, where her average speed clocked faster than men's world number one Andy Murray, it is little wonder that when asked if she admired another player's shot she was quick to share her thoughts.
"I'm pretty happy with what I've got, but I really love the forehand of (Juan Martin) del Potro. It's very fast and very hard," said Ostapenko, who is also known as an accomplished ballroom dancer in her homeland.
Should she triumph on Centre Court on July 15, will she be eager to show off her quickstep moves on the dance floor at the glitzy Champions' Ball held at the end of the tournament?
Advertisement
"No, I think it would be a slow waltz. For the Wimbledon ball it fits the best. All the players turn up in long dresses so the waltz will go well with the outfits," she giggled.
Any preference about whom she would like to share that dance with?
Also Read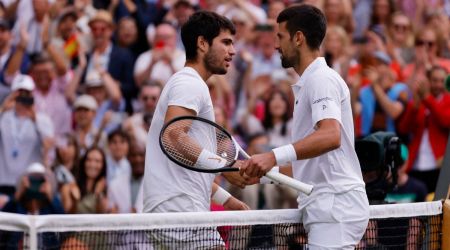 Novak Djokovic and Carlos Alcaraz set to meet again in group stage of Dav...
Watch: Jannik Sinner wins a 46-shot rally against Tommy Paul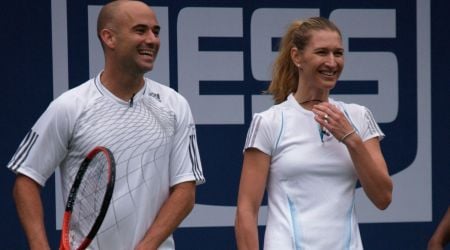 Does Steffi Graf ever age? Husband Andre Agassi has the perfect reply
'Never been friends, never been close to Roger Federer': Novak Djokovic s...Advertisement
"If I win one day, any men's champion will do!"
Copyright Notice
This article only represents the author's viewpoint and does not represent the position of our website< Br> This article is authorized for publication by the author and cannot be reproduced without permission.