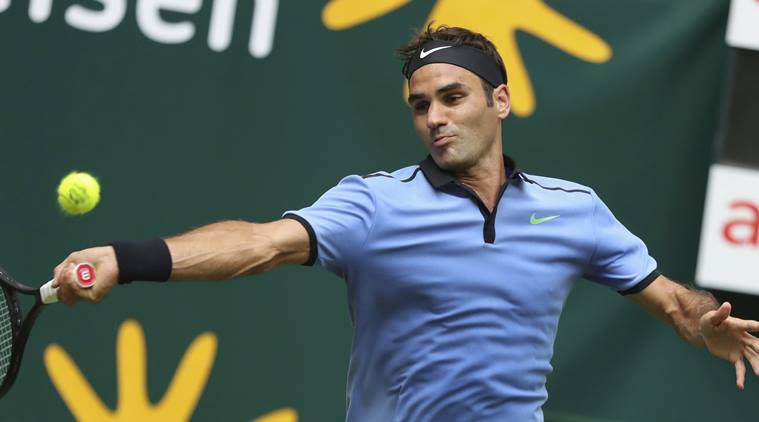 Roger Federer will go into Wimbledon buoyed by a ninth title on the grass of Halle. (Source: AP)
Twelve months after shutting down his season in the wake of a devastating semi-final defeat, Roger Federer returns to Wimbledon as favourite to capture a record-breaking eighth title and become the tournament's oldest champion.
The evergreen Swiss superstar, who turns 36 in August, has stunned the critics who wrote him off as yesterday's man when he went down to Milos Raonic in five gruelling sets on Centre Court in 2016. The loss forced him off tour for the remainder of the year to rest a knee injury, leaving his Grand Slam title count on 17 where it had been since 2012.
Fast forward a year and Federer is poised to break the tie for seven Wimbledon titles he shares with Pete Sampras and take his career tally at the majors to 19.
With eternal rivals Andy Murray and Novak Djokovic in slumps of varying lengths and degrees of seriousness, and Rafael Nadal fretting over whether or not his knees will bear the stress of grass courts, it is Federer in the box seat.
Federer, who captured a fifth Australian Open in January, will go into Wimbledon buoyed by a ninth title on the grass of Halle. His final demolition of Alexander Zverev, 15 years his junior and a player seen as his natural heir, came just a week after he marked his return from a 10-week break by losing in the first round in Stuttgart.
It was his first defeat in an opening round on his favourite surface since his shock loss to Mario Ancic at Wimbledon in 2002. However, Federer believes his Stuttgart setback came at the right time ahead of Wimbledon.
"I was doubting myself a little bit, I must admit, because losing in the opening round for the first time in 15 years on grass was always going to shake me a little bit and it did," said Federer who has lost just two matches all year.
Advertisement
"So I'm happy to react right away and remind myself I actually can play well on grass."
For tennis storylines of 2017, Federer shares top billing with Nadal after the Spaniard defied the doubters to win a 10th French Open. That took him to 15 Grand Slam titles, one ahead of
Sampras and just three behind Federer.
But for Nadal, Wimbledon has always been bittersweet.He was champion in 2008 — where he beat Federer in a final widely regarded as the greatest ever played — and 2010 as well as finishing runner-up in 2006, 2007 and 2011.
Advertisement
Injury forced him to skip Wimbledon in 2009 and 2016 while the years 2012-2015 saw him lose to Lukas Rosol (world ranked 100), Steve Darcis (135), Nick Kyrgios (144) and Dustin
Brown (102). A fourth round run in 2014 represents his best recent effort.
Nadal admits that if he suffers a new problem with his knees on the Wimbledon grass, where the lower bounce of the ball piles more pressure on the legs and joints, then his visit to London may again be short-lived.
"If I have pain in the knees, then I know from experience that it's almost impossible," said the 31-year-old.
Defending champion Murray is fresh off a first round exit at Queen's at the hands of Australian world number 90 Jordan Thompson. The world number one, who was also Wimbledon champion in 2013, has failed to get past the second round in three of his last four tournaments. Short of grass court exposure, Murray headed to the luxurious surroundings of the Hurlingham Club in west London for an exhibition tournament.
Equally desperate for game time is Djokovic, the three-time Wimbledon champion who travelled to Eastbourne hoping the sea air might breathe life into a career which is in freefall. The Serb was on top of the world just over 12 months ago when he arrived at Wimbledon with all four Grand Slams in his possession.
Advertisement
However, a third round loss to Sam Querrey set him on a slide which has been more or less constant ever since. His ranking has slipped from one to four and he's parted with coaches Boris Becker and Marian Vajda.
The jury is still out on his decision to hire Andre Agassi while his quarter-final loss at Roland Garros to Dominic Thiem was his first in straight sets at the majors in four years. The 6-0 'bagel' handed to him in the third set by the young Austrian was the first time he had suffered such an indignity in 12 years.
Also Read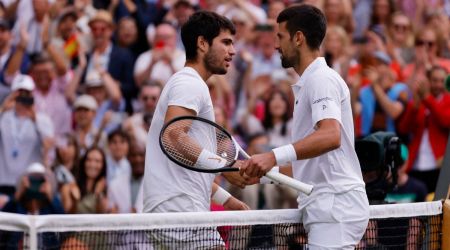 Novak Djokovic and Carlos Alcaraz set to meet again in group stage of Dav...
Watch: Jannik Sinner wins a 46-shot rally against Tommy Paul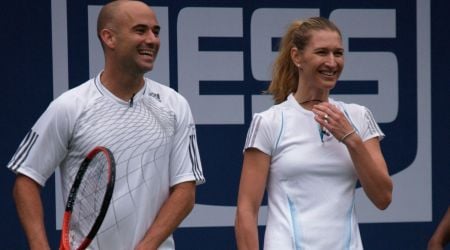 Does Steffi Graf ever age? Husband Andre Agassi has the perfect reply
'Never been friends, never been close to Roger Federer': Novak Djokovic s...Advertisement
"All the top players go through this. I have to get through it and learn the lessons and come back stronger. It's a big challenge but I am up for it," said the 30-year-old Serb.
Copyright Notice
This article only represents the author's viewpoint and does not represent the position of our website< Br> This article is authorized for publication by the author and cannot be reproduced without permission.