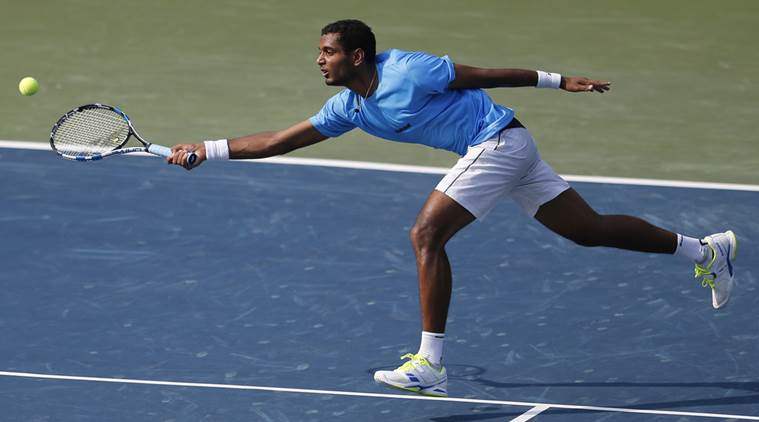 Ramkumar Ramanathan lost 6-7, 6-3, 7-6 to former World No.8 Marcos Baghdatis in the quarterfinals of the ATP 250 Antalya Open.
Ramkumar Ramanathan struck his 11th double fault to bring up match point for his opponent — the dream run was surely about to end. Till that point, during the course of the week, the 22-year-old progressed from the qualifiers of the ATP 250 Antalya Open in Turkey, got the better of 68th ranked Rogerio Dutra Silva, and then notched a straight-sets win over World No.8 Dominic Thiem.
Now the World No.222 was down 1-6 in the tiebreaker of the final set in the quarterfinal against Marcos Baghdatis, a former World No.8 himself. But in a tournament where Ramkumar achieved what was not expected of him, there was a resolve to keep at it.
He saved five match points to draw level before Baghdatis – ranked 79 – eventually won 6-7, 6-3, 7-6. For the Cypriot, playing the lower ranked qualifier proved to be an ordeal that lasted two-hours-43-minutes. An episode where the 32-year-old needed a medical timeout to fix the few niggles to compete against a younger opponent who has employed a strong fitness routine.
Ramkumar had the legs to carry him through the match that saw him take the first set 7-6, winning seven straight points in the tiebreaker. But Baghdatis found rhythm to break Ramkumar's serve twice in the second set, winning it 6-3. In the third, both managed to hold serve, although Ramkumar did find himself 40-0 down at 3-3, before saving three break points to get back and take the game.
Soon the tie-breaker was in order where Baghdatis eventually served out for a spot in the semi-finals. For all his attributes – a booming serve, powerful forehand, competent volley – Ramkumar had shied away from the intensive rigours of going up against top players on the ATP circuit.
Boot camp 
Instead he would annually turn out only for his home ATP event at Chennai. Prior to the Antalya Open, six of his 10 ATP participations had come at Chennai. But at the latest edition, his lack of preparation came to torment him. It would launch him into a delayed pre-season training boot camp. An opening round loss at Chennai was followed by failure to make the cut for the Australian Open qualifiers. With no available tournaments to compete in during the Grand Slam, Ramkumar was invited by his coach Emilio Sanchez, a multiple-time Grand Slam winner, to travel to Florida and train at the veteran coach's academy for 'pre-season' conditioning. "All the hard work I put in during the pre-season is paying off now," he said after his win over Thiem.
The training program revolved more around building his fitness than work on his playing technique. "I started off by doing 50 pushups and bench press. Then I had to do some weight training. But as I kept doing it every other day I felt better because then I was used to it. During tournaments you are not able to do these things. After the intense training, I was already sore by the second day," Ramkumar told the Indian Express during India's Davis Cup tie against New Zealand at Pune in February – a week after the camp ended.
Advertisement
The fitness coach was actually a basketball player from the Nick Bolletteiri Academy who worked on his movement. "You need to be really quick with the legs. Move well and react well. You should find a way to hit the ball deep and then get into the court. That's the only way for me. Try to be more attacking. Try to play a lot of serves, because once you are on the backfoot it is very tough to recover," he had explained.
The Chennai-lad spent hours working on fitness drills, shifting attention to actually playing on court only once he tired towards the end of a session. "He pushed me more when I was getting tired. The drills went on for three hours each. Once I was tired, then we played a set," he said. "And when you're practicing with Emilio, you cannot say 'I'm tired'," he added. This was about building mental strength while pushing the physical limits. "You struggle those days, but when you play tournaments, you feel a lot better. The pressure will always be there but physically I feel a lot better," he had stressed.
Also Read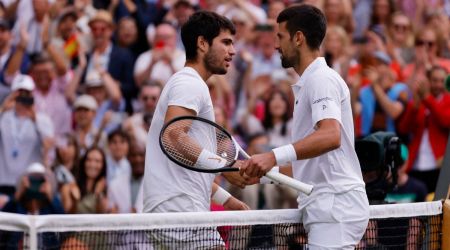 Novak Djokovic and Carlos Alcaraz set to meet again in group stage of Dav...
Watch: Jannik Sinner wins a 46-shot rally against Tommy Paul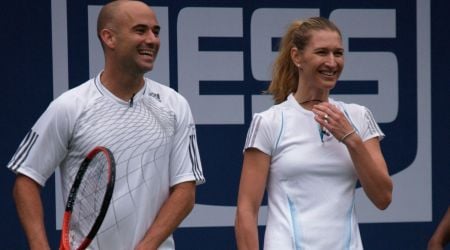 Does Steffi Graf ever age? Husband Andre Agassi has the perfect reply
'Never been friends, never been close to Roger Federer': Novak Djokovic s...
Refreshed and rejuvenated, Ramkumar led India to a win against New Zealand in the Davis Cup. His calendar since then has had him compete in 12 Challengers – reaching the final at the Tallahassee event – and only four Futures events, along with him spearheading the Indian lineup in a win against Uzbekistan in the second round zonal Davis Cup tie in April. Steadily he found the confidence to take a step into the ATP circuit, picking the inaugural tournament at Antalya. Playing three top 100 players, beating two (including Thiem) and driving Baghdatis to the distance was a run that showed what the newly strengthened legs were capable of.
Copyright Notice
This article only represents the author's viewpoint and does not represent the position of our website< Br> This article is authorized for publication by the author and cannot be reproduced without permission.