French Open Final: Rafael Nadal wins tenth French Open title 6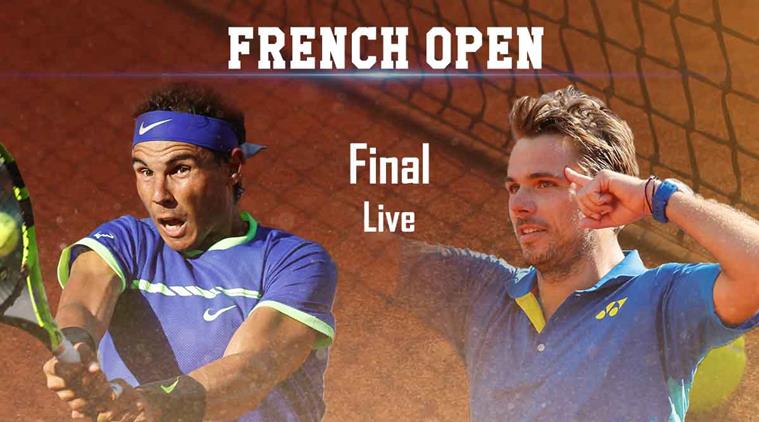 French Open Final: Rafael Nadal got the better of Stan Wawrinka in a straight sets.
French Open final, on the face of it, looked evenly poised with Rafael Nadal known for being spectacular on defence and Stan Wawrinka very good in attack – as he had shown through the tournament. But that attacking spree goes for a toss when one faces Rafael Nadal and the Swiss player found that out in a demolition by Rafa. The Spaniard easily coasted to a straight sets win 6-2, 6-3, 6-1 for his tenth French Open crown.
French Open Final, Rafael Nadal vs Stan Wawrinka Score and Updates: Nadal is 23-1 this year in clay court matches with his only defeat being the one to Dominic Thiem in Rome – the Austrian lost to Rafa in the semis. On head-to-head, Rafa leads Wawrinka 15-3 with a 2-1 record in Slams.
2048 hrs IST: Wawrinka now serving to stay in it. A forehand winner to prolong the effort but Nadal follows it up with a gorgeous forehand to force Wawrinka into an error. Two chanpionship points. One saved as Nadal's running forehand is narrowly wide. Wawrinka errs on his backhand while trying to take it first time on the backhand but fails to connect properly. NADAL GOES DOWN IN JOY! TENTH FRENCH OPEN TITLE! 6-2, 6-3, 6-1!
2035 hrs IST:Wawrinka tries to go down the line on the forehand and force Nadal into an error but gets a winner past him instead. 30-30. Follows it up with a serve. However on game point, Wawrinka tries to play a drop shot which is tame. Deuce. Wawrinka forcing Nadal to play one more shot and that defensive effort sees Nadal playing a half-volley at the net and failing to make it over the net. On game point, Wawrinka tries the same-ish, but Nadal is quick to move forward for a winner down the line. Deuce. Good build up play from Stan for the volley kill at the net. Gorgeous play at the net from Wawrinka to pick up a Nadal sliced drop shot and save a break point after Nadal forced him into an error. Game point for Stan. After a neat build up, Nadal with his relentless attitude forces Wawrinka into another shot after a lob and that is shanked into the net. Deuce. Wawrinka tries to find the outside of the line but fails to do so. Break point Rafa. Wawrinka goes for too much on the forehand and sends it long. BREAK! Nadal now up 4-1
2028 hrs IST:Wawrinka with a little look in at 0-30 but Nadal has one back with a lovely inside-out forehand winner behind Stan. 15-30. Wawrinka with an error on the forehand and it is 30-30. Nadal brings up game point but Wawrinka staying in it with a massive forehand winner. Deuce. Serve right on the line and Wawrinka can't control it, sends it wide. Advantage Rafa. Nadal has Wawrinka on the run and the forehand is long. Holds. 3-1 in the third set
2023 hrs IST:An early break for Rafa once again and we're going with theme in this third set. Follows it up by holding his serve. Wawrinka then comes back and gets himself on the board
2006 hrs IST:Nadal to serve for the second set at 5-3. Wawrinka hits the top of the tape. 15-0. Wawrinka with a deep groundstroke and Nadal sends his backhand long. 15-15. Wawrinka with an error on the backhand to send it long. 30-15. Nadal gets the luck of the net and then does beautifully to keep his racket down to keep a loaded ball in play. Wawrinka, though, with Nadal at the net sends his backhand way long. Set point Rafa at 40-15. Really good serve into the body and Nadal wins the second set 6-3 in 40 minutes
Advertisement
2003 hrs IST:Nadal with fierce two-handed backhand and Wawrinka fails to get to it. 0-30. Good serve and Nadal sends the return long. 15-30. Good second serve and Nadal sends his return into the net. 152 kmph and close to the line. Another good serve and Wawrinka has gotten himself out of a cage it seems. Holds with a forehand winner to a short reply. 5-3 now
2002 hrs IST:Nadal is cruising through this final. Giving Wawrinka absolutely no chance, no look in. Wawrinka now serving to extend this second set at 2-5
1954 hrs IST:Wawrinka trying to add pressure on Nadal but finding that tough to do so. Nadal holds serve and Wawrinka now trying to keep things on the attack
Advertisement
1942 hrs IST:Nadal is in relentless form. Wins the opening set and now 3-0 up already in the second set. Early break and Wawrinka stands no chance at the moment
1925 hrs IST:Wawrinka now serving to stay in the opening set. 15-30 now as Stan's backhand goes narrowly wide. Follows it up with a good serve out wide and Nadal sends forehand long. 30-30. Big rally and Nadal closes it out with a whipping forehand cross court that Wawrinka stood no chance at catching. Set point! Wawrinka sends his forehand long and Nadal wins the first set 6-2 in 42 minutes
1918 hrs IST:NADAL BREAKS! Gorgeous forehand down the line sets up a break point opportunity and the Spaniard does not need second invitation to go ahead. Goes up 4-2!
1913 hrs IST:Nadal with an ace to hold serve and keep the first set on serve. Leads 3-2 vs Wawrinka in the opening set
1908 hrs IST:Wawrinka saves a break point and then holds to make it 2-2. Has his serve pushed but stays firm to not get deterred and keep things level in this opening set.
Also Read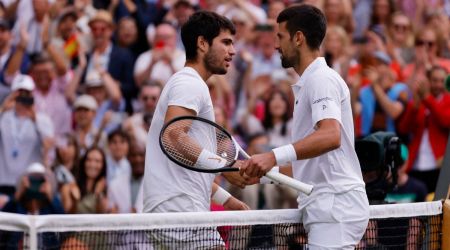 Novak Djokovic and Carlos Alcaraz set to meet again in group stage of Dav...
Watch: Jannik Sinner wins a 46-shot rally against Tommy Paul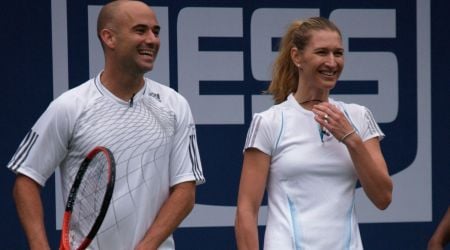 Does Steffi Graf ever age? Husband Andre Agassi has the perfect reply
Boris Becker's wife terms the tennis great as 'a devil'Advertisement
1845 hrs IST:Rafael Nadal to get things underway then. He won the toss and has chosen to serve first. Holds to love and 1-0 up. Good signs early of running forehand and forcing Wawrinka into an error
© IE Online Media Services Pvt Ltd
Copyright Notice
This article only represents the author's viewpoint and does not represent the position of our website< Br> This article is authorized for publication by the author and cannot be reproduced without permission.